Meebo, which I have recently been turned on to, yesterday released an iPhone client which is basically a web interface to their chat website (which integrates AIM, Yahoo!, MSN, gtalk, and more). It looks great, take a peek: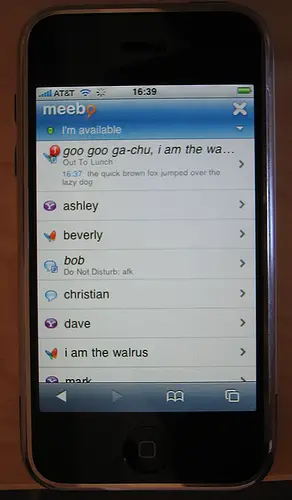 That is great that they are developing this and I applaud them for their efforts of releasing updates on mobile devices.
Now, maybe I have iPhone envy, but wouldn't it make sense to release this for Windows Mobile since the market share that Windows Mobile has is MUCH greater than iPhone? According to Gartner, Windows Mobile shipped a little over 3 million devices in the 1st quarter of 2007 alone (and that number does not even include "Smartphone" devices). iPhone, according to their own estimates [MacNewsWorld], will sell a million units by Sept 30th.
I asked Meebo about their plans for Windows Mobile. Here is the response I received from Sue:
As far as a Windows Mobile version of meebo, it's
something that we've thought about and are interested in, but at the
moment we don't have development time and resources to add support for
every device we'd like to.
Here is where it gets tricky. There may be a great market penetration for Windows Mobile – but it is not easy to develop a web app for it because there is no standardized browser platform. Sure, you have Internet Explorer Mobile, but let's face it – IEM is program is not very good at rendering web pages and would be a nightmare to develop for. Each version of Windows Mobile has differences in IEM that designers would have to be conscious of. The other browsers that Windows Mobile users have the option of using: Opera Mobile, Netfront, Minimo – do not have enough market penetration to make it development worthwhile. [on a sidenote, Opera Mobile is the best browser for Windows Mobile, give it a try if you haven't already.]
Hence, we have the major difference between Windows Mobile and iPhone OS. Windows Mobile, although an "open" system that allows developers to create their own programs, has the problem of having a high cost to develop because you need to have Windows Mobile programming experience.
On the other hand, the iPhone, with it's "Closed" OS, has a standardized browser that works well and is easy to write web code for. Web publishers around the world are free to write code for it in their native programming languages because the browser is the component that renders the graphics and takes care of the network.
So how is this problem resolved? Nintendo seems to have fixed this very same issue by offering Opera for Wii via the Wii Shop channel. Wii users who install this browser have many options available out there for web interfaces that are designed specifically for the Opera browser on Wii – most notable of these is Orb, which has a beautiful interface for the Wii. Microsoft, ever the profitable company it is, wants users to use IE on Windows Mobile and therefore bundles IEM.
Microsoft needs to get with the program and make their browser easier to write for and more standards compliant. If that doesn't happen, then we are definitely looking at an iPhone future for mobile devices.
If you use Windows Mobile, please contact Meebo and let them know that you'd like to see a Windows Mobile version of Meebo!