I was an early adopter into the Helium ecosystem, getting my hotspots earning HNT by the handful. It was a productive year or so, until the market became saturated, HNT prices dropped, and my hotspots barely earn enough to cover the electricity they consume. Currently I am happy with my Google Fi service and coverage, but I'm an early adopter and love testing out new products.
Helium, which has raised funds from a16z and has shifted to "Helium 5G" hotspots, is now focusing on the mobile phone market instead of the Lorawan "LongFi" network. Helium 5G hotspots are expensive (and hard to find ready to ship), so I decided not to get one – however I did notice from the Helium Mobile map that there is one located in my town.
So when I was offered "beta" access to Helium Mobile – for free – I was skeptical but intrigued. With the price being "Free" during the beta, and $5/mo after the beta for unlimited data, my "if it's too good a deal, it's a scam" alarm bells were ringing. So throwing my privacy hat into the garbage for a bit (I have protected my data almost 24/7 by the Google One VPN), I decided to dive in head first.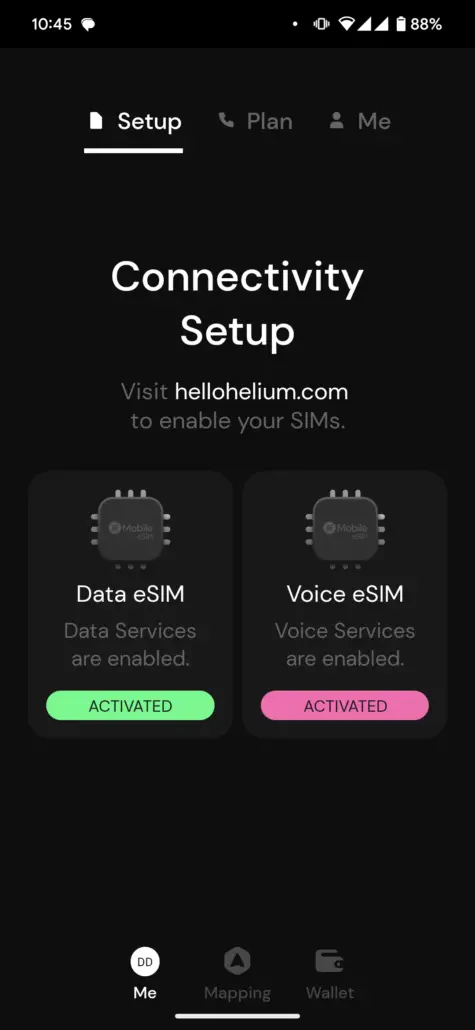 Helium Mobile works using eSIM cards, and there are 2 available – one for voice/sms and one for data. Since I wasn't planning to move my phone number over, I opted for the data eSIM and uploaded it to my phone.
To my delight, it worked! I even have T-Mobile 5G UC, which is better than the T-Mobile low-band that I get through Google Fi.
In summary, my Pixel 7 Pro is using the Helium 5G eSIM for primary data, and then Google Fi physical sim card for calls and SMS.
Reliability
I find the reliability to be reliant on the T-mobile network coverage, so around here it is very good. Just as good as the Google Fi coverage, which also uses T-mobile MVNO network.
T-Mobile has excellent coverage in my area – depending on where you are located, it could be not so great. Check out the T-Mobile coverage map to make sure you will have good coverage in your location.
Activating The Helium eSIM
In order to activate the Helium eSIM, you need to install the Helium Mobile app (Google Play Store, Apple App Store).
Sign up for an account using their app or website. I was able to get an account through their beta program, it looks like as of the publication of the article you can currently only sign up if located in Miami.
After you are logged into your account in the Helium Mobile app on your phone, select "Activate eSIM". This will begin the process of downloading the eSIM to your device and activating it. If you are used to using eSIMs this is pretty straightforward, just be aware that many phones only allow one eSIM to be active at one time. My Pixel 7 Pro allows one physical sim, and one eSIM to be active.
Helium Discovery Mode
Now comes the interesting part, earning crypto! The Helium Mobile app has an option, disabled by default, called "Enable Discovery Mapping".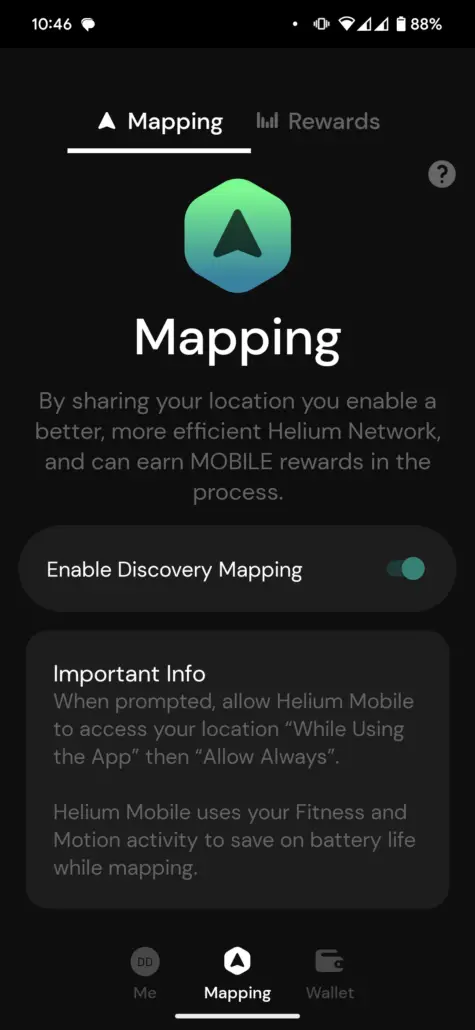 Once turning this on, you need to allow background access to location.
Here are all of the permissions enabled for the Helium Mobile app: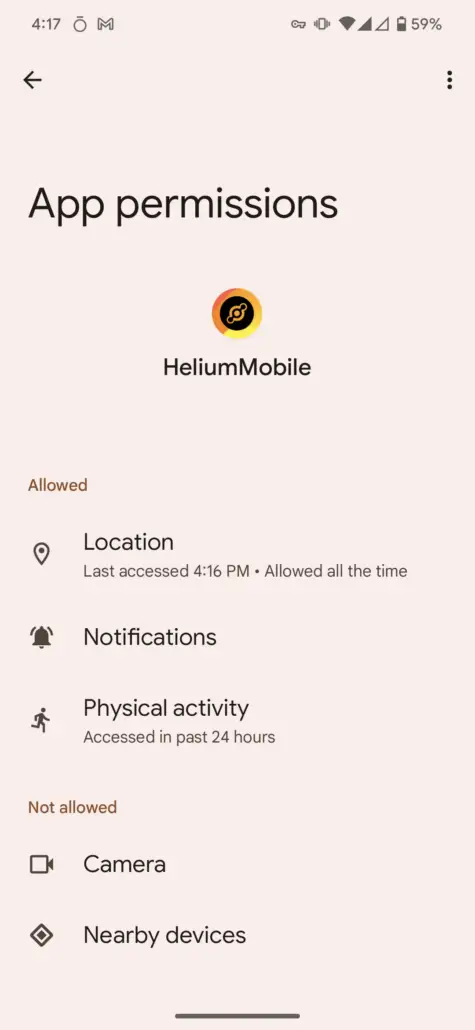 After enabling this, I was curious how many "Mobile" tokens I would get each day. I do some traveling but I mostly go between my home and my office.
It turns out I am getting about 5,000 MOBILE tokens each day. According to CoinMarketCap that is about $1.33 a day, according to today's price of $0.0002676 per MOBILE token.
At this rate, discovery will earn me about $40 per month. Since I'm paying $5 per month, now that the service is out of beta, that nets $35 per month. Not too shabby!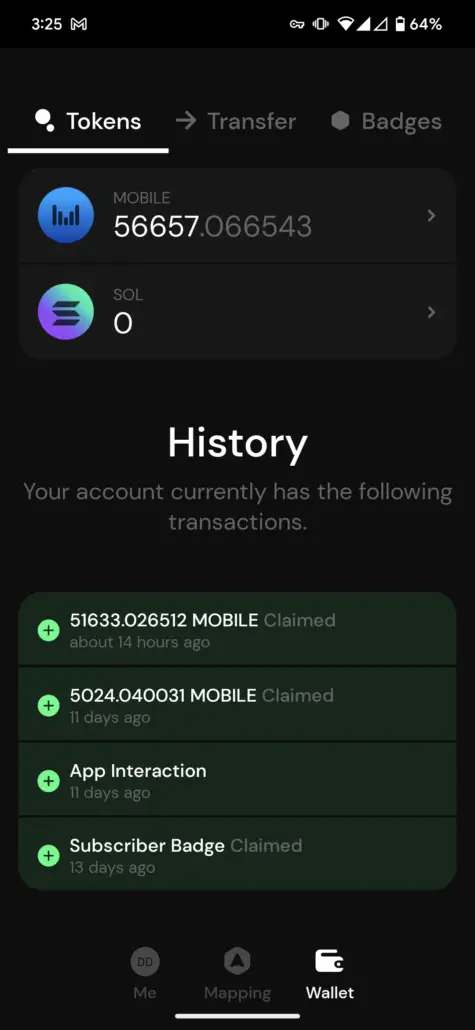 How to Convert HELIUM tokens to Solana or USD
The Helium tokens are now in your Helium Mobile app, but that doesn't do you much good. You can hold onto them, hoping that they will increase in value, or convert them to another cryptocurrency or even to fiat. I will cover how to do that in a future post, comment below if you'd like to know more!
Verdict: Try It, But Be Wary
I'm always cautious about things that seem "too good to be true". Usually if a product is free, you're the actual product. I'm not convinced this isn't the case here, but I wouldn't use the network without a VPN protecting your data. The private Helium 5G hotspots will use a private party's internet for your own use. Your traffic, if unsecured, could be intercepted. From the phone, Helium has access to my location and movement. This is also very valuable information, and Helium spells out how this information can/will be shared in their Privacy Policy.
I have 2 invites for Helium Mobile to give out (works anywhere in the US), follow me on X Mastodon at https://hachyderm.io/@ddrager and give me a shout out requesting an invite, I will pick 2 random users to send the invite to.