[av_notification color='blue' border='solid' custom_bg='#444444′ custom_font='#ffffff' size='large' icon_select='yes' icon='ue81f' font='entypo-fontello' av_uid='av-boq9b'] This post is now quite old. Boxee has been purchased by Samsung and no longer offers software for replacing your cable box. If you are actually looking to replace your cable box, I recommend using a game system like the
Xbox One
and then using various apps to replace TV channels. I actually use the Verizon Fios app which has most of the channels I would get with a cable box. To fill out the other channels, I use Windows Media Center and Plex.
[/av_notification]
Gone is my 500+ channel television subscription along with the required boxes necessary to decode all of that content. The DVR, which has been a mainstay of my family's television viewing habits, has been ousted. In it's place is a kick-ass system that keeps the DVR functionality for many of the TV shows that we usually watch, brings in much new content, and also saves me a few bucks each month.
Let's face it, you don't want all of the content that your cable provider offers. Cable providers have fought a-la-carte programming tooth and nail for this very reason. Much of it is specialty programming, and though I admit it is nice to know it was there, my family and I rarely watched any of it. My new setup brings many new sources as well as a CHOICE to what you want to view. I am very happy with the results so far.
My Requirements
There are a few requirements I had made for myself when deciding to go this route:
Live Broadcast TV in HD must still be possible. Bonus for being able to DVR television shows.
Ease of Use – must be usable by my family. I don't expect it to be as 'simple' as a vanilla cable box, but I want it to be close
Access to Local Media – I want to be able to stream my backed-up movies, photos, and music
Backend Systems
I have an existing network infrastructure in my house, which I admit most non-geeks would not have set up. This is necessary for the "Live TV" portion of my setup as it includes the HD Tuner cards which do not fit into my new system as well as the muscle to compress these recordings. My current setup includes:
10/100/1000 Gigbit router with Wireless-N
File server with 1.5TB of RAID storage space to store movies, music and other files
External "Computer" acting as a server for BeyondTV. This computer includes a tuner card which handles unencrypted QAM streams
The Hardware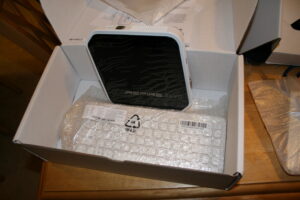 The system is actually very simple on the hardware side. Besides the TV, only 2 pieces of hardware are needed.
This is a dual-core Intel Atom computer running at 1.6Ghz. My specific system included 2GB of RAM and a 320GB hard drive. It has built in Wifi-N network connectivity, a card reader, multiple USB ports, optical audio, HDMI port, VGA port and analog audio jacks.
I picked this system not only because of its low cost (~$300) but because of the Nvidia ION chipset running under it's hood. This chipset is optimized to handle 1080p HDTV video along with high def audio. In includes the Nvidia CUDA accellerations and is optimized to work with Windows 7. This chipset is also capable of handing HD video using Flash 10.1 (currently in open beta). This means that it can handle the HD Flash video since the main Intel Atom CPU is not doing the heavy lifting on the decoding of this content.
This is a RF Remote which is customizable via XML configuration profiles. There is a profile available for both Boxee and Snapstream BeyondTV.
The Software
I decided to run Windows 7 for the OS. Windows 7 Home Premium runs great on this system and the drivers that are currently published work very well on it. It includes Windows Media for as a possible frontend but I have decided to use Boxee due to the plethora of content available and the active development of the platform.
This software connects via the wireless wired network to the BeyondTV server in my house which actually has the tuner cards. This offsets some tasks handled by the server such as heavy disk I/O required for recording HD video streams and compressing them into smaller video files.
I did have some problem with High Definition video at first. When I used wireless-N, which should have plenty of bandwidth to handle even HD video, I had very stuttery playback. After going through a lot of testing, it seems that even though the bandwidth is plenty, the BeyondTV software suffers from a lack of flexibility when it comes to any sort of network latency. Therefore any sort of wireless connection does not appear to support streaming HD video. 100/1000 seems to be the only way to go if you are going to view live HD video on this machine.
After a show is recorded, is is re-encoded (they call it "ShowSqueeze") using the H.264 codec. You save about 80% of the space of a normal HD TV show and the quality if very good. The default decoder that BeyondTV uses seemed to do fine, but I also installed CoreAVC codec which is CUDA optimized for handling H.264 video decoding. CoreAVC uses nVidia CUDA optimization which the system supports.
Boxee handles everything from internet streamed video content to local content playback. The full capabilities of the Boxee interface is beyond the scope of this post, but it has numerous features:
Streams Hulu, Fancast, Netflix and Pandora (to mention just the big players)
Custom "Apps" to handle many other video sources
Local Media handles streaming from a mapped network drive. Plays many codecs and containers including: MKV, AVI, DivX, Xvid, WMV, MP3, etc.
Social Media Connectivity
Refined '10 foot' UI
Boxee is slick. Using it with the remote is a joy and you can really stream a LOT of video and audio from MANY different sources. This also might be its downfall. Along with the big name streams there are 100s of other ones available that would not be suitable for someone used to cable TV content. Also it seems to require a lot of clicking. Television is a different beast – you set a channel and can leave it on 24/7. With Boxee you need to select your content – which is both good and bad. It is good in that you get to watch what content you want, but bad in that you are not introduced to new content in a way a television station will.
Boxee Beta works well for most content but I did find issues with online content from several different sources such as ABC and the WB. The software is in active development so if you find this issues make sure to report them to the developers.
Here is a gallery of shots of the Acer Revo 3610, BeyondTV and Boxee Beta
The Initial Results
All being said and done, some not-too-obvious strengths and weaknesses appeared from using this setup. Media companies – please pay attention to these so you can improve your offerings!
Strengths
All Boxee content is on demand. All of your media is now available on your television and in your living room. LiveTV via this method retains the all-important DVR but is a fraction of the cost, which is the real monetary benefit to moving to this system from a proprietary cable system solution.
Running BeyondTV not only gives you the ability to watch TV on any PC throughout the home (with BeyondTV Link), but allows you to stream it online – so for example if you are at work you can watch any recorded shows or live TV.
You no longer live on the timetable of the major television stations but can feel free to view content when you are ready. Content on Boxee usually appears the day after it is on live TV, but I find more and more this is how I prefer to watch TV anyway.
Weaknesses
BeyondTV development seems to have been all but abandonded by the Snapstream team, who are now focused on enterprise markets. Although it is a capable system (still) it has not been in active development for 2 or more years. The age is starting to show, and I hope Snapstream comes around and continues development. As far as alternatives go, MythTV and SageTV are both out there but I was never a fan of either. I am investigating switching to the Windows Media Center platform for television but don't have any results of that so far.
Boxee is still in Beta status and does have some bugs. Some random crashing and the inability to stream some content it told me was available is frustrating. The wide variety of content available via a '10-foot' interface more than makes up for this drawback.
The lack of premium television stations is also notable. The whole Cablecard debacle of the past 8 years shows the resistance from the industry to modernize our television systems. With more premium content available on Amazon Video on Demand and iTunes, this becomes less of an issue. Since this is actually a PC, you can play this content albeit not via the Boxee interface.
The Future
So what will the future bring? The market is prime for a Boxee app which is basically a streaming television provider. Like a traditional cable company (or FiOS), you will install this app and pay a monthly fee for television program which is streamed over the internet. Premium channels are available a-la-cart finally as well as the traditional packages. Although due to licensing restrictions it won't be free, you will be able to save 20-30% over traditional cable provider's television programming. It may be offered for about $40-50 a month.
Paid, on-demand video is also lacking. If Boxee got on board with Amazon Video on Demand, it would be a powerful combination. This would allow you to both "rent" and "own" movies and television from Amazon's streaming service. Boxee recently announced that it is developing Boxee Payments which will allow payments from the content consumers, to the content providers. I am looking forward to what this will bring the platform.
I may have jumped the gun a bit since the Boxee Box is soon to be available but my system does handle a few tasks that would not be possible on a streaming media box, namely live TV with DVR. If you are happy with you current cable situation, you would not likely see a lot of benefit moving to my setup. However if you want control of your media and are tired of the big named cable companies dictating how and when you get your entertainment, then you would definitely enjoy the freedom this setup provides.