I've decided to replace my cable plan and DVR box with something a little more… functional.
Sure we get a ton of channels from Verizon FiOS, but we hardly ever watch them. Our television viewing habits mainly consist of a few programs that my wife watches and a few programs that I watch, but we almost never watch them live. We typically DVR them and then watch them on our own time. For the few instances where we would like to watch live TV, for example when a Penn State game is on, we would like to be able to watch that. Normally the games are on ABC/NBC/Fox so premium cable channels such as ESPN aren't necessarily needed. There will be some instances where a game may only be available on the Big 10 network or some other premium channel, but honestly I am not that big into sports and the times that this might occur will be few and far between, maybe 1 or 2 times a year, which I can deal with.
Of course the other thing I have to consider which kicking out the cable box is the "Wife Acceptance Factor" or WAF. I believe my solution has a very high WAF ratio and I am hoping she will agree.
The other main "Audience" of our TV is our kids. They shouldn't be watching it much anyway, but let's be honest here. They like their kids programs, but they are all DVRed and watched time-shifted anyway. For the programs they enjoy, we can either catch them on the public channels, or we can buy the DVDs and watch them that way.
The current setup:
Verizon FiOS Premier TV Plan
LG TV 37″
2-tuner HD DVR Box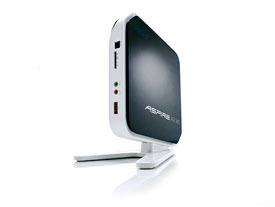 So here is the tentative planned system:
Eliminating our cable package and going with the "Local" plan at $12.99 a month. This should give us the local OTA in an Uncrypted QAM format that at a minimum our TV can decode using it's tuner, and at best via our media streaming server. We could go with an antenna and pick them up but we are pretty far from the broadcast sources and it is questionable whether we would be able to pull them in. (~-$60/mo)
Acer Aspire Revo 3610 Dual-Core Intel Atom machine with  Nvidia Ion Graphics. This will allow me to run the applications which I will explain further below. ($295 w/o OS, +$50 for Windows 7 [I already have a copy of Win7 to install])
BeyondTV will be running on my main desktop system. I have a tuner card which receives QAM content. BeyondTV link, from reports, will run on this Revo system and allow me to stream HD TV to it as well as play any DVRed content. ($99 + $30)
Hauppage WinTV tuner card. I currently have a single tuner card but if this works out will likely upgrade to a dual tuner card for more recording sources and the ability to watch a channel while recording another. (~$100)
Snapstream FireFly remote to control the system. ($50)
Boxee as the main non-TV user interface. ($0)
Upgrade network to Wireless-n. Currently running B/G and I could run a physical network drop to the TV but I think just for future purposes upgrading the wireless network will be the best way to go.
The Acer Aspire Revo 3610 system is the core of the system besides the desktop which will do some of the heavy lifting with the TV tuner. It is a dual-core Intel Atom (1.6 ghz) system with the highly vaulted Nvidia Ion graphics chipset. This will allow much of the video processing to be sent to the graphics chip, which lets this little system handle 1080p video without problem, from the disk at least. One thing that is hanging out there is the question of will I be able to stream the video from my file server – so this is definitely a concern I have. From report's I've seen from others, it can handle the workload but honestly until I see it working I will be skeptical. It was also recommended by the Boxee team as being a system to use and which will be supported in development in the future.
Television, both live and recorded, will be handled by Snapstream BeyondTV. My main PC upstairs contains the tuner card, and this system essentially acts as the interface for it. Anything non-television will be handled by Boxee which has a stellar interface. The Snapstream Firefly remote works with both BeyondTV and Boxee, allowing for one remote for all content.
So how do I plan on using the system:
1. Television
Using BeyondTV and BeyondTV Link, I will be able to watch Live, High Def television. Also will be able to time-shift content and have the ability to archive programs for watching later.
This beats Verizon's HD DVR box in several ways. First of all, it is limited to 120GB which only holds several hours of HD content. We often find ourselves up against this limit. I've tried contacting them via multiple channels to inquire about expanding this with the built in USB/Firewire ports but they are not interested in having customers do this. Their loss.
For 'archived' television programs, I will be able to manually or automatically convert the programs into a higher compression format for indefinite storage. BeyondTV even includes "StreamSnip" which can cut out the commercials from your content. The alternative is doing this manually or just skipping commercials while they are playing.
For television programs that are not available via broadcast network television there are several options which this setup will supports.
Hulu
Many CBS, Fox, ABC and MTV shows are on Hulu with other networks signing up all of the time.
Fancast
This is another website, sponsored by Comcast, which includes shows from Hulu but also from other sources. There is a Boxee app which allows you to view these shows via the interface. Fancast is mainly an index of shows available online in streaming format.
iTunes/Amazon
For the remaining shows that aren't available for free you can usually find them online in the iTunes or Amazon library. While you won't be able to see them as they broadcast, they are usually available on the sites a day or 2 after they air. I will admit that my main holdup for switching over will be how I will not be able to see Mad Men as it airs, as it is one of my favorite shows currently airing and is only available on AMC, which doesn't stream for free.
On the flip side, only AMC in standard definition was available via Verizon FiOS. Through the Mad Men subscription via Amazon or iTunes, the high def version will be available and also you get to keep it, without risk of 'running out of room' on your DVR device.
Other
You could either buy the season DVDs or acquire them through other means [torrent] if the above all fails. For some specific content, options are available online for purchasing a season or some type of other streaming pass, such as the Big10 Network.
2. Movies
We have an extensive DVD and Blu-ray collection and I am planning on ripping these for both backup purposes and to be able to access them on-demand using the media server. Boxee has a great interface for watching these movies, for example it automatically adds the disk covers.
Boxee also includes an app to allow you to stream Netflix movies to the device. If you are just looking for this feature there are several devices out there that will do it, such as Popcorn Hour, a Netflix-connected Blu-ray player, PS3/Xbox or the upcoming Boxee box. But I thought that having a machine to handle this will allow you to do other things as well.
Eventually I am hoping that Boxee will add an app to allow viewing of Amazon Video On Demand. While not currently available, this essentially gives any Boxee machine ability to view movies "On Demand" much like a cable box does. It would also allow the viewing of "Season Passes" for television shows. This is where the future is at – so I hope both Amazon and Boxee are on board with getting together on this.
I am going to keep the Blu-ray player we currently have attached, but I am hoping in the future to eliminate it either by ripping the movies to storage or by attacking a blu-ray drive to the machine.
3. Music/Audio
We did occasionally use Verizon's music channels, but lets be honest, there are a lot of better options out there. I am a Pandora One subscriber and there is a Boxee app to connect into Pandora. There are a ton of other choices out there, and in the long run even a subscription to something like Rhapsody might be worth-while if we find outselves listening to a lot of music.
Boxee will also allow us to stream all of our downloaded music and stored MP3s, something that Verizon boxes can do but they charge $20 for their "Media Manager" package. While their setup might work for those who don't know how to set something like this up, I thought it was a bit of a rip at $20 monthly for something you already own.
Boxee also has a great podcasting interface, and although I don't think that I would use this feature for someone who is into podcasts this could be a neat function.
4. Other content
This is beyond the scope of this post, but via the Boxee interface there is a ton of content out there that is available for free. Everything from YouTube to OpenCourseWare to any type of video RSS feed. Developers are adding more content daily. A lot of it is niche content and not everyone will want to be navigating around the interface looking for things, but there is  TON of information that is available via the Boxee software. After I get this set up, I plan on writing a post about how my family actually uses the setup.
In Conclusion
In summary, the above is my plan for the great switchover. With the savings from not paying for Cable TV and all of those channels that I never use, I am hoping the up-front investment will pay for itself in about 6 months. I'm sure there will be some items which I forgot to include and will be last moment purchases but I think since I've thought this through pretty thoroughly they will keep to a mimimum.
Up front costs: $600 (personally defrayed 50% since I have most of the required software and hardware)
Monthly savings: $60
Let me know if you have any thoughts about my solutions or recommendations on anything you think I will need to add to the system. I'll be writing  series of posts on the hardware and my progress in getting the system set up. I plan on documenting the setup, and the speedbumps, to assist others in setting up a similar system. You can also follow my progress via @ddrager.