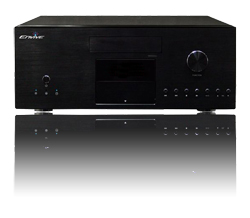 You have to check out the Envive E-Center Pro [eHomeUpgrade] home theater machine. It comes with Windows XP Media Center Edition (Vista Ultimate Ready) but I would rather throw Beyond TV on this puppy.
Check out these beefy stats…
E-Center Pro Features:
Intel Viiv Certified Platform utilizing Intel Core 2 Duo Processors
Up to 8GB DDR2 @ 677MHz or 4GB of DDR2 @ 800MHz Memory
Windows Media Center 2005, Vista Ultimate Ready
Also available with EnviveOS
2 NTSC Tuners and 2 ATSC Tuners under MCE 2005
4 NTSC Tuners and 4 ATSC Tuners under EnviveOS*
500GB to 4.5TB (6 x 750GB SATAII) of Storage, RAID Optional
DVI/HDMI Video Output with HDCP Support, Optional
Dolby Home Theater Certified High Definition Audio featuring 7.1 Audio Output with SPDIF
Dual Layer DVD+/- RW Standard, Blu-ray Disc Drive optional, HD-DVD drive Available Late Q4 '06
Rack mounting Kit, Optional
Gigabit (10/100/1000 Mbits/sec) LAN powered by Intel, Additional NIC is Optional.
Built in VFD and IR receiver
Envive is taking preorder 9/20/2006 (tomorrow) – so go get one if you can afford it, lucky you!
E-Center Pro Preorders [Envive]
Related: does anyone know what EnviveOS is?