Recently picked up a "Phillytablet" from the local newspaper publishing group, Philly Media Network (PMN), publishers of the Philadelphia Inquirer, Daily News, and a few other smaller news publications.
The pricing is structured with two options. The first is to buy the tablet for $99 and pay $9.99 a month for the e-editions of the newspapers for 2-years. The second is to pay $129 for the tablet and agree to a 1-year subscription at $12.99/mo.
If you decided to buy this tablet without the deal, it is currently retailing for about $221, but it is not quite available yet from general retailers. A lot of misinformation has been going around saying that it is available for $170, however this is for an older model and isn't accurate if you are making that comparison.
The newspaper wants you to believe you are receiving a savings over a regular newspaper subscription. If you work it out over the term of the contract and discard the value of the newspaper, it costs $338.76 for the 2 year and $284 for the 1 year deal. Obviously if you aren't going to use the newspaper portion, it isn't worth it to agree to this deal.
I am going to review the PMN portion of the device separately from the hardware, because they are really two separate things. Also of note, this is my first Android device. I've used Windows Mobile in the past and I've been an iOS fan for the past few years but have been wanting to dip my feet into the Android world for a while now and thought this would be a good chance to do so.
Click here to skip to the Philly Media Network apps review.
The Arnova 10 G2 Tablet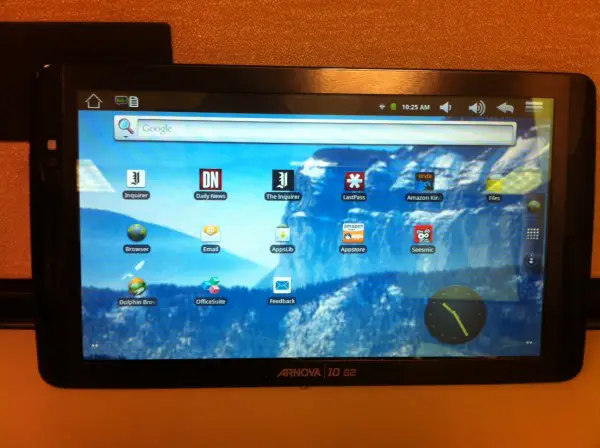 The tablet itself has a solid feel to it. It is mainly plastic but is sturdy enough to not seem flimsy. There is a camera on the front and none on the back – and the front-camera is of low enough quality that it isn't going to be good for much more than video-chatting.
It came with Android 2.3 installed on it, as well as a few apps and shortcuts. Specific to the Phillytablet are a few apps I will describe in further detail below.
The 10″ screen itself is bright and of decent quality. It has a more rectangular shape than the iPad, which does lend itself to reading a newspaper or a lot of text.
Battery life, from what I can tell so far, is also good on this tablet.
I did notice that it does not charge via the included USB plug, you need to use the proprietary power adapter to do any charging, so I was a bit put off by that. USB is so prevalent, all devices/gadgets should charge via this method.
The lack of a dual-core processor was definitely visible at times. Angry Birds took a few seconds to get running smoothly, but after that it seemed to run OK. Any website that included Flash was visibly slow and movement was jerky. Reading a book via the Amazon Kindle app was OK, there was a little delay while paging but it was tolerable. If I had to guess I would say that this device suffers a bit both from not enough CPU power and also latency while reading/writing to memory.
All said, it is a decent device for the money. I would not describe this as a "top tier" tablet as some PMN executive will tell you, but it isn't bad for the price.
The App Store
Since I'm new to the Android world, I'm also new to this market fragmentation I've heard so much about. And it is ugly. So for non-Android people, I will give you the short and quick version as I know it, please feel free to correct me if I am wrong. Apparently Google only allows access to Android Market on some devices, and this tablet is not one of them. To try to correct this, Archos (the parent of the Arnova brand) created an App store called AppsLib. They also included the Amazon App Store on the tablet. Each store does have tons of applications, however I found some major gaps. You want Netflix? Nope. Skype? Nope. BeeJive? Just the Facebook version (?) for some reason.
It appears that some application developers choose to only release to certain stores, and access to those stores is restricted. I've heard that you can root your device and add some custom ROMs which then give you access to other stores, but haven't gotten that far yet.
Yet for some reason, AppsLib offered Angry Birds for free (add supported). I can't really figure it out, but I can tell you the separation of apps stores is definitely a cause of confusion for consumers.
Notably missing was Google Apps and other cool toys you often see on other Android phones and tablets. It does include a browser and some apps are available via the Amazon store, including Seesmic, Kik and more.
The Philly Media Network Apps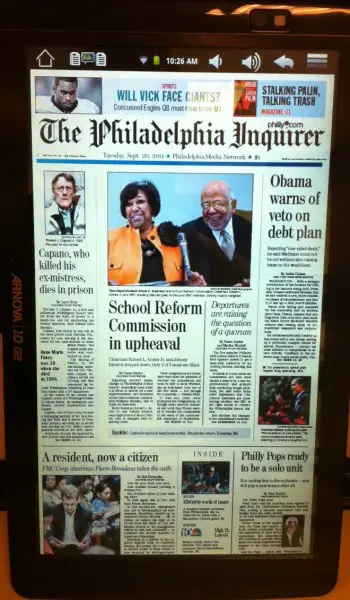 So now that we've determined that you should only buy this device if you want to receive the subscription to Philly Media Network, what do you get with your subscription?
When you receive your device there are several pre-installed apps from PMN. One is a link to the online tablet version of The Inquirer. The second are two 'e-readers' for the digital versions of the print layout of the Philadelphia Inquirer and the Daily News. The rest just seem to be bloatware to me – advertisements (links to websites, basically) to Main Line Health, PMN, Dealy-o and Philly.com. So the real thing you are paying for are the subscription to the 2 e-reader apps for the Inq and Daily News.
What I like About The Inquirer and Daily News Apps
There are a few things that I do like about the apps. It's nice that it will automatically download the papers while you are at home, and you don't need the network to read them as you travel on your way to work. I take the train and the reception from AT&T is, let's just say, unreliable. Using the paper app you can read through the paper just like the print version.
When I was a print newspaper subscriber, I liked reading the paper, but disliked all of the trash it generated. This is also a great way to reduce paper consumption and reduce distribution costs for the paper.
And Of Course, the Drawbacks
Specific to this device, there is a delay while reading the paper and moving around. With the processing power of a tablet, I assume you are going to see some of this latency. I'm curious how this e-version of the paper would look on something like the EeePad Transformer (@subewl, care to help me out with that?)
Non-specific to the device, the UI of the app seemed to be a bit confusing to me. You supposedly have the ability to click on headlines and be taken to a text-version of the article formatted to read on your screen. It only worked about half the time for me, I think it has to do with where the main text section was located. Hopefully this is just a bug they can iron out.
Why I Like Reading The Whole Paper
Sorry of this gets a bit philosophical for you, but I think there is a place for old-school journalism. It's not about local news, if I want tidbits of local information I'll check Twitter or Facebook. I like old-school journalism because it gets me in-depth coverage of local-ish news items.
Blogs have their place too, but I attribute their success to a different area of the brain. It's the same area that OK or People scratches – breaking news, gossip, and 'eye catching' headlines. Having written for some major blogs – Lifehacker and MakeUseOf, it is amazing to see how much of the success of a blogger is attributed to the eye-catching quality of the title of the post. It takes one read through comments and you can tell that many do not even read the actual content, they read the headlines and form an opinion.
Newspapers are good, on the other hand, at really getting into the issues. They interview local people and analyze the issue much more than any blog that I've known.
The problem with newspapers is that they are trying to emulate the success of blogs. Instead, they need to focus on what they are good at – in depth coverage of local/national news, and bringing that to its audience in as user-friendly of a way as possible.
An e-Newspaper does not do this. I think The Daily is probably the best example I've seen of a newspaper making this transition the right way. Focus on the app. Creating version of the newspaper that is exactly like the paper version is not going to win you any subscribers.
Want to reach us in the digital age? We might have a shorter attention span but we still value good content.
Will the Phillytablet be a success?
This is certainly a tough call to make. I want it to work. Journalism as a whole has been under fire and the whole reason I gave this deal a shot – besides having the tablet itch for a while now – is that I want it to succeed. I'm probably the ideal customer for this tablet – my train commute giving me ample reading time – and I'm a news junkie to boot.
I just don't see this being a long-term viable winning strategy for them. I think they are concerned that not enough people have access to tablets in order to get the e-edition of the paper. As we've seen tablet prices drop, I think if someone wants a tablet, they are going to buy one and this isn't going to be a barrier to adoption of an e-newspaper. The barrier to adoption is that reading a full-version newspaper on a tiny device is never going to be as a fulfilling experience as holding out crisp newsprint.
To illustrate my point, I paged sadly by the crossword and sudoku puzzles. We used to get the physical paper just so that my wife could do those every week. With the e-edition, you can't play them at all.
What can the Philly Media Network do to turn things around?
First of all, I think they need to drop the Phillytablet initiative and focus on content and delivery across all platforms – iOS, Android and Web. If they want to offer a tablet, give it as a gift if someone subscribes to the paper for a year or 2. They should be giving online access to everyone with an interest in the content, not just subscribers to a physical or electronic paper.
Also, they need to get with the times on the ordering process. You had to call a phone number to order the Philly tablet. You couldn't order it online or pick it up in their store. This goes the same with their newspaper subscription, and in this day and age is a major drawback to adoption.
Let me know your thoughts
So, I've certainly been wrong before but I am curious about your thoughts. Do you think the Phillytablet has a shot? What is the future of print newspapers?