Category: Reviews
---
Recently picked up a "Phillytablet" from the local newspaper publishing group, Philly Media Network (PMN), publishers of the Philadelphia Inquirer, Daily News, and a few other smaller news publications.
The pricing is structured with two options. The first is to buy the tablet for $99 and pay $9.99 a month for the e-editions of the newspapers for 2-years. The second is to pay $129 for the tablet and agree to a 1-year subscription at $12.99/mo.
If you decided to buy this tablet without the deal, it is currently retailing for about $221, but it is not quite available yet from general retailers. A lot of misinformation has been going around saying that it is available for $170, however this is for an older model and isn't accurate if you are making that comparison.
The newspaper wants you to believe you are receiving a savings over a regular newspaper subscription. If you work it out over the term of the contract and discard the value of the newspaper, it costs $338.76 for the 2 year and $284 for the 1 year deal. Obviously if you aren't going to use the newspaper portion, it isn't worth it to agree to this deal.
I am going to review the PMN portion of the device separately from the hardware, because they are really two separate things. Also of note, this is my first Android device. I've used Windows Mobile in the past and I've been an iOS fan for the past few years but have been wanting to dip my feet into the Android world for a while now and thought this would be a good chance to do so.
Click here to skip to the Philly Media Network apps review.
The Arnova 10 G2 Tablet
The tablet itself has a solid feel to it. It is mainly plastic but is sturdy enough to not seem flimsy. There is a camera on the front and none on the back – and the front-camera is of low enough quality that it isn't going to be good for much more than video-chatting.
It came with Android 2.3 installed on it, as well as a few apps and shortcuts. Specific to the Phillytablet are a few apps I will describe in further detail below.
The 10″ screen itself is bright and of decent quality. It has a more rectangular shape than the iPad, which does lend itself to reading a newspaper or a lot of text.
Battery life, from what I can tell so far, is also good on this tablet.
I did notice that it does not charge via the included USB plug, you need to use the proprietary power adapter to do any charging, so I was a bit put off by that. USB is so prevalent, all devices/gadgets should charge via this method.
The lack of a dual-core processor was definitely visible at times. Angry Birds took a few seconds to get running smoothly, but after that it seemed to run OK. Any website that included Flash was visibly slow and movement was jerky. Reading a book via the Amazon Kindle app was OK, there was a little delay while paging but it was tolerable. If I had to guess I would say that this device suffers a bit both from not enough CPU power and also latency while reading/writing to memory.
All said, it is a decent device for the money. I would not describe this as a "top tier" tablet as some PMN executive will tell you, but it isn't bad for the price.
The App Store
Since I'm new to the Android world, I'm also new to this market fragmentation I've heard so much about. And it is ugly. So for non-Android people, I will give you the short and quick version as I know it, please feel free to correct me if I am wrong. Apparently Google only allows access to Android Market on some devices, and this tablet is not one of them. To try to correct this, Archos (the parent of the Arnova brand) created an App store called AppsLib. They also included the Amazon App Store on the tablet. Each store does have tons of applications, however I found some major gaps. You want Netflix? Nope. Skype? Nope. BeeJive? Just the Facebook version (?) for some reason.
It appears that some application developers choose to only release to certain stores, and access to those stores is restricted. I've heard that you can root your device and add some custom ROMs which then give you access to other stores, but haven't gotten that far yet.
Yet for some reason, AppsLib offered Angry Birds for free (add supported). I can't really figure it out, but I can tell you the separation of apps stores is definitely a cause of confusion for consumers.
Notably missing was Google Apps and other cool toys you often see on other Android phones and tablets. It does include a browser and some apps are available via the Amazon store, including Seesmic, Kik and more.
The Philly Media Network Apps
So now that we've determined that you should only buy this device if you want to receive the subscription to Philly Media Network, what do you get with your subscription?
When you receive your device there are several pre-installed apps from PMN. One is a link to the online tablet version of The Inquirer. The second are two 'e-readers' for the digital versions of the print layout of the Philadelphia Inquirer and the Daily News. The rest just seem to be bloatware to me – advertisements (links to websites, basically) to Main Line Health, PMN, Dealy-o and Philly.com. So the real thing you are paying for are the subscription to the 2 e-reader apps for the Inq and Daily News.
What I like About The Inquirer and Daily News Apps
There are a few things that I do like about the apps. It's nice that it will automatically download the papers while you are at home, and you don't need the network to read them as you travel on your way to work. I take the train and the reception from AT&T is, let's just say, unreliable. Using the paper app you can read through the paper just like the print version.
When I was a print newspaper subscriber, I liked reading the paper, but disliked all of the trash it generated. This is also a great way to reduce paper consumption and reduce distribution costs for the paper.
And Of Course, the Drawbacks
Specific to this device, there is a delay while reading the paper and moving around. With the processing power of a tablet, I assume you are going to see some of this latency. I'm curious how this e-version of the paper would look on something like the EeePad Transformer (@subewl, care to help me out with that?)
Non-specific to the device, the UI of the app seemed to be a bit confusing to me. You supposedly have the ability to click on headlines and be taken to a text-version of the article formatted to read on your screen. It only worked about half the time for me, I think it has to do with where the main text section was located. Hopefully this is just a bug they can iron out.
Why I Like Reading The Whole Paper
Sorry of this gets a bit philosophical for you, but I think there is a place for old-school journalism. It's not about local news, if I want tidbits of local information I'll check Twitter or Facebook. I like old-school journalism because it gets me in-depth coverage of local-ish news items.
Blogs have their place too, but I attribute their success to a different area of the brain. It's the same area that OK or People scratches – breaking news, gossip, and 'eye catching' headlines. Having written for some major blogs – Lifehacker and MakeUseOf, it is amazing to see how much of the success of a blogger is attributed to the eye-catching quality of the title of the post. It takes one read through comments and you can tell that many do not even read the actual content, they read the headlines and form an opinion.
Newspapers are good, on the other hand, at really getting into the issues. They interview local people and analyze the issue much more than any blog that I've known.
The problem with newspapers is that they are trying to emulate the success of blogs. Instead, they need to focus on what they are good at – in depth coverage of local/national news, and bringing that to its audience in as user-friendly of a way as possible.
An e-Newspaper does not do this. I think The Daily is probably the best example I've seen of a newspaper making this transition the right way. Focus on the app. Creating version of the newspaper that is exactly like the paper version is not going to win you any subscribers.
Want to reach us in the digital age? We might have a shorter attention span but we still value good content.
Will the Phillytablet be a success?
This is certainly a tough call to make. I want it to work. Journalism as a whole has been under fire and the whole reason I gave this deal a shot – besides having the tablet itch for a while now – is that I want it to succeed. I'm probably the ideal customer for this tablet – my train commute giving me ample reading time – and I'm a news junkie to boot.
I just don't see this being a long-term viable winning strategy for them. I think they are concerned that not enough people have access to tablets in order to get the e-edition of the paper. As we've seen tablet prices drop, I think if someone wants a tablet, they are going to buy one and this isn't going to be a barrier to adoption of an e-newspaper. The barrier to adoption is that reading a full-version newspaper on a tiny device is never going to be as a fulfilling experience as holding out crisp newsprint.
To illustrate my point, I paged sadly by the crossword and sudoku puzzles. We used to get the physical paper just so that my wife could do those every week. With the e-edition, you can't play them at all.
What can the Philly Media Network do to turn things around?
First of all, I think they need to drop the Phillytablet initiative and focus on content and delivery across all platforms – iOS, Android and Web. If they want to offer a tablet, give it as a gift if someone subscribes to the paper for a year or 2. They should be giving online access to everyone with an interest in the content, not just subscribers to a physical or electronic paper.
Also, they need to get with the times on the ordering process. You had to call a phone number to order the Philly tablet. You couldn't order it online or pick it up in their store. This goes the same with their newspaper subscription, and in this day and age is a major drawback to adoption.
Let me know your thoughts
So, I've certainly been wrong before but I am curious about your thoughts. Do you think the Phillytablet has a shot? What is the future of print newspapers?
---
Fellow tech friends, I have a find for you. If you have a job, or hobby, or whatever where you find yourself meddling with a bunch of .iso files, whether to boot off of them or just to access the data on them, then I have the device for you.
It all started after I backed the Kickstarter project for the isostick. Having never heard of a device before that would accept .iso images on a filesystem and then present them to the computer as a disc drive, I thought this was (and is) a pretty cool idea.
When browsing through the comments, I saw folks mentioning that this is just like the Zalman ZM-VE200 external hard drive enclosure. So of course I decided to do some research on this newly discovered gadget.
Overview
The Zalman ZM-VE200 at its core is an external sata hard drive enclosure. These have been around for a long time, allowing you to put your hard drive in an external enclosure and accessing the file system via a USB port. They are great for when you need to transfer a large amount of data and have an internet connection which isn't up the the task in any reasonable amount of time.
This external enclosure can work just like that, an external USB drive. However, Zalman has added an extra layer of functionality on the enclosure by adding additional components which add features which I frankly haven't seen anywhere else.
Zalman's Additional Hardware Magic
The additional circuitry allows you to select an ISO which is present on the drive, and load it just as if it were a DVD or CDROM on the system. This means that instead of carrying around discs to install operating systems on, you simply put the ISOs on the drive and then select the correct ISO when you boot.
When you boot/plug in the drive you actually have 3 modes available to you. Disc, Hard Drive or Dual. With Disc, files you place in the _ISO folder on the drive will be selectable via the wheel on the side of the device. As it was shipped the drive needs to be formatted as NTFS in order to show the ISO files, however with updated firmware you can actually use with FAT or NTFS.
Operation
First thing you need to do is to install a SATA drive into the enclosure. This is pretty much a no-brainer, it only plugs in one direction. Slide the drive and circuitry back into the case and use the attached screws to secure the case to the drive/circuitboard. The screws are hidden by little rubber seals on the edge of the case.
When plugging it into the system, you interact with the drive in a few ways. The initial scroll wheel position, when powered up, determines the mode:
Hold Up to enter ODD or "Disc" mode
Hold Center to enter Dual mode (both HDD and ODD modes)
Hold Down to enter HDD only mode
An eSATA port and cable are also supplied. I did not use this mode in my testing. It requires that you still plug in the USB cable for power requirements, and I would assume you would see faster transfer rates while in eSATA mode.
Finally there is a small switch that enables write-protect mode. This makes it so that you won't be able to accidentally change the data on the drive.
The only problem I had with the drive was when I first plugged it into my system via a USB extension cable. The drive did not even turn on, it actually just clicked a little bit. I changed USB ports and then it seemed to work fine. Also I've run into a situation where I plugged in the drive to a system that was off and then booted it, and the screen lit up but stayed blank. I believe this is because this drive requires more power than some USB ports can deliver, so if you have problems with it, try another USB port first to see if that fixes your problem.
I also had some problems occasionally mounting the ISO file, usually booting into ODD mode (hold the scroll wheel "up") seemed to fix this problem.
Final Thoughts
When installing operating systems from this drive, the process is notably faster. Meaning, the transfer speed you see off of the "disc" on the drive is much faster than a normal CD or DVD drive. While there were some technical hiccups and gotchas, the drive works very well.
This "gadget" is a must-have tool for system technicians who find themselves constantly burning ISOs to discs. My co-worker who initially made fun of my fondness for new gadgets has since said I'll have to pry this drive from his cold, dead hands. It is so useful that I am now recommending it to all of my sysadmin friends. At $50 it is a steal and you will even make your money back because you won't be burning so many discs.
(Updated Amazon link to SE product on 5/12/2012 – Thanks Skip!)
---
HBO GO has been in the works for a while now, and is an indication of what some networks are trying to do to add value to their subscription rate. Offering video for streaming online is definitely a benefit to a premium channel like HBO. And it is a glimpse as to what the future of online video will hold.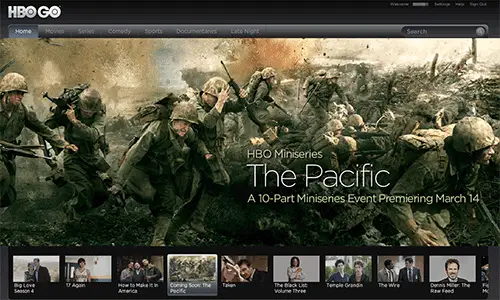 I recently got rid of my cable box and implemented a do-it-yourself solution. Since HBO is a premium channel and encrypted, they force you to either buy a cable box via subscription or also a cable-card (which they also charge for). This actually gives me a unique perspective on the service: would I pay for HBO to receive the HBO GO online only offering? Read more…
---
Gone is my 500+ channel television subscription along with the required boxes necessary to decode all of that content. The DVR, which has been a mainstay of my family's television viewing habits, has been ousted. In it's place is a kick-ass system that keeps the DVR functionality for many of the TV shows that we usually watch, brings in much new content, and also saves me a few bucks each month.
Let's face it, you don't want all of the content that your cable provider offers. Cable providers have fought a-la-carte programming tooth and nail for this very reason. Much of it is specialty programming, and though I admit it is nice to know it was there, my family and I rarely watched any of it. My new setup brings many new sources as well as a CHOICE to what you want to view. I am very happy with the results so far. Read more…
---
I've been on vacation for the past few days, and prior to this trip I decided I wanted to stay connected wherever I was going – and the new broadband offerings from Cricket Wireless looked to be the perfect solution.
I was looking for something that did not involve signing a contract, but Verizon, Sprint and AT&T's offerings were pretty expensive. They typically have a "small" data plan, around 250 Megs of transfer for a smaller fee, or an "Unlimited" offering for a fairly expensive rate, around $60 a month for most providers. The Cricket plan I signed up for is an "Unlimited" – read 5GB – plan for $40 a month, with no contract.
Cricket Wireless is relatively new in my area (Philadelphia), having only started providing service in March of 2009. They have been in other markets since 1999. Wireless Broadband has been an offering of their since 2007. Cricket is a subsidiary of Leap Wireless.
The way the "Unlimited" plan works, and why I need to use quotes on Unlimited, is that you get a 5GB quota, and then the speed your connection can be severely restricted to limit your bandwidth consumption. This connection, according to the Acceptable Use Policy you sign when signing up, is meant for "web only" or e-mail traffic; meaning that it is not supposed to be used for streaming video or music (up or down).
The Device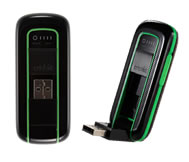 The USB Broadband Modem I purchased is the Cricket A600. It was available on sale for $20 after rebate, which I thought was very reasonable considering you are not purchasing a contract with the modem. Usually providers will give you a roughly $200 price break on the modem if you sign up for a 1 or 2 year contract. This makes their offerings seem cheaper, even though you pay it in the long run.
Costs
Like I have alluded to previous, the big draw for the Cricket network is the cost of the unlimited package, $40 a month with no contract. There is a $25 activation fee. I would assume that this fee applies whether you are starting a new line of service, or if you allow your pre-payment plan to expire; necessitating a re-activation.
How does it work?
The way the modem works is when you first plug it in, it is recognized as a flash drive and the drivers are installed via Autorun. It currently only supports Windows and Mac OSX; their site specifically states it does not support Linux, although there are instructions on how to get the A600 working in Ubuntu. I am currently using the Windows 7 beta, it did not install correctly automatically – I had to manually install the device drivers using the setup file, and then the modem was installed and found on the next insert. So, even with a few hiccups, the A600 is ready for use on a number of operating systems. You can see the number of devices that are installed when you plug in the modem (Windows 7 screenshot):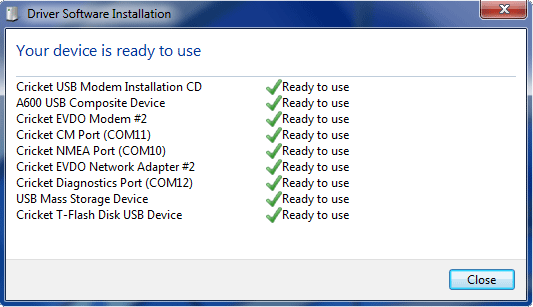 As a bonus, the modem also works as a MicroSD card reader. This does not really help you if you do not have a MicroSD card laying around, I happed to have a 2GB one that plugged in and works as advertised. This might be a good thing to have if you are a travelling technician, you could place your thumbdrive programs on this device and have a ready-to-go connection and troubleshooting device.
The Connection
Connectivity is provided by "dialing in" to the Cricket network using their provided application, as seen below: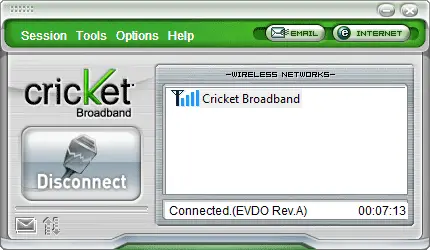 The program has a few functions:
Connect/Dial In to the network
Keep track of incoming/outgoing text messages
Bandwidth manager (did not work on Windows 7)
The program seemed to work as advertised and the big connect/disconnect button is easy enough for the most inexperience internet user to understand.
The Network and Speed Tests
The Cricket Broadband network looks like it piggybacks on the Verizon or Sprint EVDO data networks. So chances are if you do not have these networks available, you would not get Cricket to work either. I had connectivity results that I had expected, in areas that are highly populated I had excellent connectivity (4/4 bars) and at other locations "in the sticks" I had only 1 or 0 bars. I was able to get connection in most places, even if the signal was very poor.
The data network always read "EVDO Rev A" which has a maximum "burst" rate of 2.45 Mbit/s to 3.1 Mbit/s. I tested in many locations; my speed with a "full" connection averages about ~ 500kbps download and ~ 200kbps upload. With a 0 or 1 bar connection I was still seeing a 500kbps download but a paltry 70kbps upload. Don't expect this connection to replace your home broadband or wifi connection, it was pretty much impossible to watch a YouTube video, the same with any sort of multimedia content. You may be able to stream a highly compressed music stream. SSH, FTP, SFTP all seemed to work – one of my concerns being a system administrator was that these ports would be blocked, but I seemed to have an unfettered connection. I did try Logmein, on my "weak" signal it did not seem to want to connect but worked pretty well with a full signal.
Another thing I seemed to encounter with a poor signal was loss of connection. Since you are basically dialing in (my wife exclaimed, "I haven't dialed in for 10 years!") if you lose the signal for a few moments you get disconnected. It is not horrible, because you can reconnect, but the Cricket dialup program did not give me a notice or sound an alarm, I just started getting "Page not accessible" errors in my browser. If you are connecting in an area that has a poor signal, expect to be frustrated with your Cricket connection. It is not necessarily their problem, but it is worth mentioning.
Your connection locally is issued a private network in the 10.100.x.x range. Ping times varied from 80ms to 120ms. Do not expect to be able to do online FPS gaming from this connection. For your perusal is a traceroute from the Cricket connection in Ocean City, NJ to www.yahoo.com.
  1    61 ms    59 ms    65 ms  172.30.218.x
  2    60 ms    65 ms    66 ms  172.28.49.x
  3    64 ms    66 ms    57 ms  172.16.8.x
  4    70 ms    73 ms    64 ms  ge-8-16.car1.Philadelphia1.Level3.net [4.78.152.249]
  5   172 ms    68 ms    70 ms  ae-7-7.ebr2.Washington1.Level3.net [4.69.133.162]
  6    73 ms    65 ms    72 ms  ae-62-62.csw1.Washington1.Level3.net [4.69.134.146]
  7    83 ms    70 ms    82 ms  ae-61-61.ebr1.Washington1.Level3.net [4.69.134.129]
  8   102 ms    89 ms    91 ms  ae-2.ebr3.Atlanta2.Level3.net [4.69.132.85]
  9   119 ms   106 ms   107 ms  ae-7.ebr3.Dallas1.Level3.net [4.69.134.21]
 10   110 ms   138 ms   108 ms  ae-41-90.car1.Dallas1.Level3.net [4.69.145.195]
 11   104 ms   102 ms    98 ms  YAHOO-INC.car1.Dallas1.Level3.net [4.79.180.2]
 12   102 ms   149 ms   104 ms  ae2-p130.msr2.mud.yahoo.com [216.115.104.93]
 13   102 ms    99 ms   100 ms  te-9-1.bas-c2.mud.yahoo.com [68.142.193.11]
 14   110 ms   103 ms    98 ms  b1.www.vip.mud.yahoo.com [209.191.93.53]
Conclusion
When all is said and done, you have to appreciate that having this little device and signing up for the Cricket Broadband service, for $40 a month and no contract, gets you an internet connection wherever you go, at least wherever you have signal. Although I suspect that a direct Verizon, Sprint or AT&T broadband connection would give you faster access, I do not think it would expand your coverage and you would pay a lot more for it. Cricket gets you a decent connection for a fair price, and I think that is worth it. If you are expecting a wired connection speed then look elsewhere, but as long as your demands are reasonable, you should be happy with Cricket Wireless Broadband.
I would recommend this modem to anyone who is looking for a web connection that is extremely portable and inexpensive. As long as your bandwidth demands are not exceedingly high, you should be happy with this modem.
Update 2009/7/20:
If anyone has clarifications on whether Cricket Wireless owns their own equipment (from tower to net) please let me know. I would just assume they 'resell' Verizon, Sprint or other "1st tier" provider wireless towers instead of building their own, which would be very expensive.
Also, I discovered you do not need to use the applet they provide to log into the Cricket wireless network. On Windows 7 at least, you can dial in directly with Windows' Network Connection Center.
---
We received this Blu-ray player along with a few Blu-Ray DVDs for an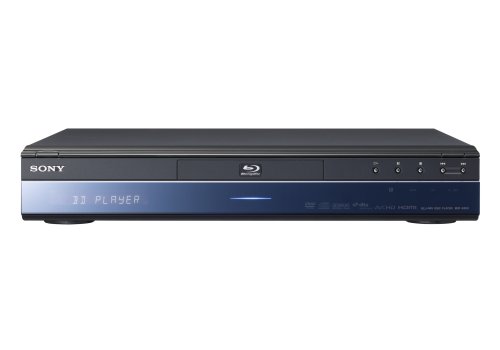 anniversary present. The BDP-S301 is the same as the BDP-S300 except it is only sold at wholesale outlets like Costco and Sam's Club. The S301 also includes an HDMI cable.
The Pros: The image looks great. Hands down it is a clean, crisp image, and with the latest firmware updates (click here) supports most audio configurations.
The Cons: This thing is the slowest media player I have ever laid my hands on.
The instructions warn that the initial setup could take 90 seconds to start and after that, start up would be quicker. I suppose they didn't lie – start up on an everyday basis takes around 40 seconds or more! After that, you can finally eject the tray to insert your movie, or make your way to the menu.
Forty seconds, when you have an impatient toddler wanting to watch Finding Nemo for the 50th time, is similar to taking a short detour through Dante's 3rd circle of hell.
In addition to that, woe to the consumer who might get a relatively new, $30 Blu-ray movie to play in it. We put in Dan In Real Life (Ok movie, but slow paced) – it proceeds to play the previews, fine. Then it seemingly locks up for a few minutes on a screen with a progress bar that says "loading". We power down, start the process again. Briefly before the "loading" screen pops up again, it mentions that on older players it could take several minutes to load the menu. Seriously, 3 to 4 minutes later, the menu loads up.
Again, we received 10,000BC (don't waste your time) in the mail from Blockbuster. Started to play it and we wanted to stop and start it over. I pressed the stop button, and I guess I overloaded the system as it was totally frozen. I had to press the power button for 10 seconds and start the whole process over.
Are you kidding me? This is the worst consumer experience I've had in a long time. Maybe I am just an impatient American, but spending 5 minutes waiting for a movie to load up, after having spent that much money on top of the line technology, is a disgrace. Sony should be ashamed that they let this product go to market.
What is it doing during this loading time? Is the Java OS loading all of its unnecessary libraries? Who allowed this to pass by QA?
So my recommendation to anyone looking to buy one of these systems is keep looking! There are more and more choices out there. The PS3 is only $50-$100 more and it loads movies much faster and has many more advanced media features (like streaming audio and video right to the PS3 from other media servers), not to mention all the games you can play on it.
Sony used to be top notch in my opinion when it came to hardware of any kind. However after this incident, I will really have to think twice before getting another Sony product!