Category: Other Technology
---
A few months ago, we had an interesting issue with another website stealing our content in an unusual way. Essentially they ran a proxy service on a similar domain (a .com.ar instead of .com) and then replicated our site, replacing our ads with their own. They also ran our content through a content replacement algorithm, removing certain pieces of text and also replacing our own domain with theirs. It is fairly easy to do.
We had a few concerns about this. Firstly, we were worried that unsuspecting users would enter their login information on this site. Also, they actually were showing up in Google search engine results, which both hurts our brand, ranking and perception by users (this site loaded much slower than ours obviously).
First Attempt To Stop The Proxy Spammers: IP Blocking
Determined to put a stop to it, the first method we tried was blocking their crawler IPs. However, they owned enough IPs in enough ranges that it was simply a cat and mouse game. We would block them, and then a day later they would be back up. After a few weeks of this it didn't seem to be a viable long-term solution for blocking these spammers.
Next, We Used Their Mirroring Of Our Content Against Them
Next I thought I would use the fact that they were modifying our page content and disable their site that way.
I created a box in html/css which would trigger via JavaScript only when loading from their domain. But, you wouldn't think it would be that easy would you? They replace our domain with theirs, modifying any mention of their own domain. So I used a quick hash function to create a unique identifier from the loaded domain and then matched against that.
Also, figuring they would just take out the HTML box I created, I also found it useful to display a hex-encoded version of it. You can encode text to the hex-escaped version for Javascript with the following command line:
1


echo

-n

"some text"

|

od

-A

n

-t

x1

|

sed

's/ /\\x/g'
The final Javascript I started loading on our site (and therefore their site) is below:
1
2
3
4
5
6
7
8
9
10
11
12
13
14
15
16
17
18
19
20
21
22
23
24
25


<

script type

=

"text/javascript"

>

jQuery

(

document

)

.

ready

(

function

(

)

{

// From http://werxltd.com/wp/2010/05/13/javascript-implementation-of-javas-string-hashcode-method/

String.

prototype

.

hashCode

=

function

(

)

{

var

hash

=

0

;

if

(

this

.

length

==

0

)

return

hash

;

for

(

i

=

0

;

i

<

this

.

length

;

i

++

)

{

char

=

this

.

charCodeAt

(

i

)

;

hash

=

(

(

hash

<<

5

)

-

hash

)

+

char

;

hash

=

hash

&

hash

;

// Convert to 32bit integer

}

return

hash

;

}

// sets hash to current domain

domainhash

=

document.

domain

.

hashCode

(

)

;

// lists domains they are loading the site from (calculate hash of the attacker domain first)

if

(

domainhash

==

'-1289333690'

||

domainhash

==

'208666227'

)

{

var

overlay_orig

=

jQuery

(

'<div style="position: fixed;top: 0;left: 0;width: 100%;height: 100%;background-color: #000;filter:alpha(opacity=50);-moz-opacity:0.5;-khtml-opacity: 0.5;opacity: 0.5;z-index: 999;text-align:middle;"></div><div style="position: fixed; top: 0px; width: 100%; z-index: 10000;"><div style="z-index: 10000; width: 400px; padding: 30px; margin: 200px auto; background-color: white; border: 1px solid black;color: black;"><h1 style="color:red">Warning: This Is A Scam Site</h1><p>Sorry for the interruption, but the site you are currently visiting is not the real one. This site scrapes our content and injects their own ads to make money./div></div>'

)

;

// Hex encoded version of above, used to defeat content replacement

var

overlay

=

jQuery

(

"

\x

3c

\x

64

\x

69

\x

76

\x

20

\x

73

\x

74

\x

79

\x

6c

\x

65

\x

3d

\x

22

\x

70

\x

6f

\x

73

\x

69

\x

74

\x

69

\x

6f

\x

6e

\x

3a

\x

20

\x

66

\x

69

\x

78

\x

65

\x

64

\x

3b

\x

74

\x

6f

\x

70

\x

3a

\x

20

\x

30

\x

3b

\x

6c

\x

65

\x

66

\x

74

\x

3a

\x

20

\x

30

\x

3b

\x

77

\x

69

\x

64

\x

74

\x

68

\x

3a

\x

20

\x

31

\x

30

\x

30

\x

25

\x

3b

\x

68

\x

65

\x

69

\x

67

\x

68

\x

74

\x

3a

\x

20

\x

31

\x

30

\x

30

\x

25

\x

3b

\x

62

\x

61

\x

63

\x

6b

\x

67

\x

72

\x

6f

\x

75

\x

6e

\x

64

\x

2d

\x

63

\x

6f

\x

6c

\x

6f

\x

72

\x

3a

\x

20

\x

23

\x

30

\x

30

\x

30

\x

3b

\x

66

\x

69

\x

6c

\x

74

\x

65

\x

72

\x

3a

\x

61

\x

6c

\x

70

\x

68

\x

61

\x

28

\x

6f

\x

70

\x

61

\x

63

\x

69

\x

74

\x

79

\x

3d

\x

35

\x

30

\x

29

\x

3b

\x

2d

\x

6d

\x

6f

\x

7a

\x

2d

\x

6f

\x

70

\x

61

\x

63

\x

69

\x

74

\x

79

\x

3a

\x

30

\x

2e

\x

35

\x

3b

\x

2d

\x

6b

\x

68

\x

74

\x

6d

\x

6c

\x

2d

\x

6f

\x

70

\x

61

\x

63

\x

69

\x

74

\x

79

\x

3a

\x

20

\x

30

\x

2e

\x

35

\x

3b

\x

6f

\x

70

\x

61

\x

63

\x

69

\x

74

\x

79

\x

3a

\x

20

\x

30

\x

2e

\x

35

\x

3b

\x

7a

\x

2d

\x

69

\x

6e

\x

64

\x

65

\x

78

\x

3a

\x

20

\x

39

\x

39

\x

39

\x

3b

\x

74

\x

65

\x

78

\x

74

\x

2d

\x

61

\x

6c

\x

69

\x

67

\x

6e

\x

3a

\x

6d

\x

69

\x

64

\x

64

\x

6c

\x

65

\x

3b

\x

22

\x

3e

\x

3c

\x

2f

\x

64

\x

69

\x

76

\x

3e

\x

3c

\x

64

\x

69

\x

76

\x

20

\x

73

\x

74

\x

79

\x

6c

\x

65

\x

3d

\x

22

\x

70

\x

6f

\x

73

\x

69

\x

74

\x

69

\x

6f

\x

6e

\x

3a

\x

20

\x

66

\x

69

\x

78

\x

65

\x

64

\x

3b

\x

20

\x

74

\x

6f

\x

70

\x

3a

\x

20

\x

30

\x

70

\x

78

\x

3b

\x

20

\x

77

\x

69

\x

64

\x

74

\x

68

\x

3a

\x

20

\x

31

\x

30

\x

30

\x

25

\x

3b

\x

20

\x

7a

\x

2d

\x

69

\x

6e

\x

64

\x

65

\x

78

\x

3a

\x

20

\x

31

\x

30

\x

30

\x

30

\x

30

\x

3b

\x

22

\x

3e

\x

3c

\x

64

\x

69

\x

76

\x

20

\x

73

\x

74

\x

79

\x

6c

\x

65

\x

3d

\x

22

\x

7a

\x

2d

\x

69

\x

6e

\x

64

\x

65

\x

78

\x

3a

\x

20

\x

31

\x

30

\x

30

\x

30

\x

30

\x

3b

\x

20

\x

77

\x

69

\x

64

\x

74

\x

68

\x

3a

\x

20

\x

34

\x

30

\x

30

\x

70

\x

78

\x

3b

\x

20

\x

70

\x

61

\x

64

\x

64

\x

69

\x

6e

\x

67

\x

3a

\x

20

\x

33

\x

30

\x

70

\x

78

\x

3b

\x

20

\x

6d

\x

61

\x

72

\x

67

\x

69

\x

6e

\x

3a

\x

20

\x

32

\x

30

\x

30

\x

70

\x

78

\x

20

\x

61

\x

75

\x

74

\x

6f

\x

3b

\x

20

\x

62

\x

61

\x

63

\x

6b

\x

67

\x

72

\x

6f

\x

75

\x

6e

\x

64

\x

2d

\x

63

\x

6f

\x

6c

\x

6f

\x

72

\x

3a

\x

20

\x

77

\x

68

\x

69

\x

74

\x

65

\x

3b

\x

20

\x

62

\x

6f

\x

72

\x

64

\x

65

\x

72

\x

3a

\x

20

\x

31

\x

70

\x

78

\x

20

\x

73

\x

6f

\x

6c

\x

69

\x

64

\x

20

\x

62

\x

6c

\x

61

\x

63

\x

6b

\x

3b

\x

63

\x

6f

\x

6c

\x

6f

\x

72

\x

3a

\x

20

\x

62

\x

6c

\x

61

\x

63

\x

6b

\x

3b

\x

22

\x

3e

\x

3c

\x

68

\x

31

\x

20

\x

73

\x

74

\x

79

\x

6c

\x

65

\x

3d

\x

22

\x

63

\x

6f

\x

6c

\x

6f

\x

72

\x

3a

\x

72

\x

65

\x

64

\x

22

\x

3e

\x

57

\x

61

\x

72

\x

6e

\x

69

\x

6e

\x

67

\x

3a

\x

20

\x

54

\x

68

\x

69

\x

73

\x

20

\x

49

\x

73

\x

20

\x

41

\x

20

\x

53

\x

63

\x

61

\x

6d

\x

20

\x

53

\x

69

\x

74

\x

65

\x

3c

\x

2f

\x

68

\x

31

\x

3e

\x

3c

\x

70

\x

3e

\x

53

\x

6f

\x

72

\x

72

\x

79

\x

20

\x

66

\x

6f

\x

72

\x

20

\x

74

\x

68

\x

65

\x

20

\x

69

\x

6e

\x

74

\x

65

\x

72

\x

72

\x

75

\x

70

\x

74

\x

69

\x

6f

\x

6e

\x

2c

\x

20

\x

62

\x

75

\x

74

\x

20

\x

74

\x

68

\x

65

\x

20

\x

73

\x

69

\x

74

\x

65

\x

20

\x

79

\x

6f

\x

75

\x

20

\x

61

\x

72

\x

65

\x

20

\x

63

\x

75

\x

72

\x

72

\x

65

\x

6e

\x

74

\x

6c

\x

79

\x

20

\x

76

\x

69

\x

73

\x

69

\x

74

\x

69

\x

6e

\x

67

\x

20

\x

69

\x

73

\x

20

\x

6e

\x

6f

\x

74

\x

20

\x

74

\x

68

\x

65

\x

20

\x

72

\x

65

\x

61

\x

6c

\x

20

\x

6f

\x

6e

\x

65

\x

2e

\x

20

\x

54

\x

68

\x

69

\x

73

\x

20

\x

73

\x

69

\x

74

\x

65

\x

20

\x

73

\x

63

\x

72

\x

61

\x

70

\x

65

\x

73

\x

20

\x

6f

\x

75

\x

72

\x

20

\x

63

\x

6f

\x

6e

\x

74

\x

65

\x

6e

\x

74

\x

20

\x

61

\x

6e

\x

64

\x

20

\x

69

\x

6e

\x

6a

\x

65

\x

63

\x

74

\x

73

\x

20

\x

74

\x

68

\x

65

\x

69

\x

72

\x

20

\x

6f

\x

77

\x

6e

\x

20

\x

61

\x

64

\x

73

\x

20

\x

74

\x

6f

\x

20

\x

6d

\x

61

\x

6b

\x

65

\x

20

\x

6d

\x

6f

\x

6e

\x

65

\x

79

\x

2e

\x

2f

\x

64

\x

69

\x

76

\x

3e

\x

3c

\x

2f

\x

64

\x

69

\x

76

\x

3e
"

)

;

overlay.

appendTo

(

document.

body

)

;

}

}

)

;

</

script

>
After thoroughly testing and then putting up the code, we launched it live. It was very satisfying knowing that end-users were getting the warning message when visiting their site, and the actually reported their experience back to us. After about 12 hours, they figured out our play out and turned off their proxy. Success!
…
Not quite. The next morning I woke up to see their site back up. Looking into their code, they had removed the JS completely. I changed our code, embedded it in a JS file, and used other creative means to get it back up – but in the end they were just able to disable the Javascript entirely and defeat this attack. It was just another cat-and-mouse game.
We also tried DMCA/Abuse Contacts
We also tried to send notices to their hosting company to get them to take down the site. They were hosted in Argentina, so DMCA is not applicable. Their abuse contacts were non-responsive.
Originally we thought we could go after their domain registration since it violated our trademark – but this is a long and involved process involving lots of paperwork and time, and for another $10 they could just register another domain name. We didn't think this was a viable option.
Going to the Source: Google
Google is involved in this scam in a number of ways. First, they were indexing and serving his site in their search results. Secondly the scammers were replacing our ads with their own Google AdSense ads, which I am sure is a ToS violation.
While we were attempting to defeat their site from a technical perspective, we also began looking at Google to see what we could do from there.
Google has a process for submitting DMCA requests. The issue in this case is that they make you submit one batch at a time, and with millions of pages on our site and indexed in Google, it just doesn't make sense to list out urls line by line. It worked to remove those submitted results from search engine results, but it was like cutting grass with scissors. Finally, I attempted to contact Matt Cutts via Twitter:
@ddrager do a DMCA request.

— Matt Cutts (@mattcutts) July 19, 2012
Thanks. So much for that venue. I know @mattcutts is the public face of Web Spam at Google so I'm sure that he gets lots of @'s with dumb questions, but we were already way beyond this.
Finally, What Worked
Members of our site had a few personal contacts at Google both in an AdSense representative and otherwise. One of our contacts with Google was able to bring this issue up with the right people and they finally took the offending domain out of the SERPs permanently. We also reported their AdSense account – but we don't know what happened with that. Without them showing up in SERPs, it was a moot point because they won't be getting many visitors any more.
The Problem With Google
Google has become so large that it is almost impossible to get a situation like this taken care of without knowing someone who works for them. They have many automated systems in place, but scammers will continue to utilize loopholes for their own profit. Google enables this type of scam, yet they also profit from it.
I wish Google would have some sort of Ombudsman or review system set up so that someone like us, who is having our content ripped off by others using Google's own tools (and with Google taking a percentage of profit from these people), has a way to efficiently deal with them without resorting to personal contacts. We spent much time on this, time that could have been put to better use.
Or maybe personal contacts are the only real way to deal with a situation like this?
Anyway – I am welcoming comments and any other ideas for dealing with these Proxy Hijackers and how to keep them offline. I'm curious how widespread this type of incident is, we know of only one other site that was having the same issue from the same scammer.
After all, they can always get another domain for $10.
---
For those not familiar with the current state of digital television, cable providers send signals to your house in a format called QAM. This comes in two flavors, Encrypted and Unencrypted formats. Encryption is used to protect channel content from general viewership so that cable operators can sell these packages and/or individual channels based on a decryption device at the home.
The FCC currently has a ban in place on the encryption of the "Basic" level of cable service. This includes such channels as ABC, NBC, Fox, PBS, etc. It is a good way for low-income or budget conscious consumer to buy the basic level of service if they can not receive these channels over the air, possibly because of interference or distance to broadcasting towers. You do not currently need to rent a cable box (aka decryption device) to see these channels, ensuring broad access to these channels which often perform public service functions such as notification in case of emergency, carrying signals from the emergency broadcast system, or also community television stations.
This is a good thing. It allows citizens to purchase a very cheap (I paid $12.99/mo) cable plan to receive these essential stations without the purchase of any decryption boxes from the cable company (which they force you to rent from them, I might add).
The Cable Companies Want Your Money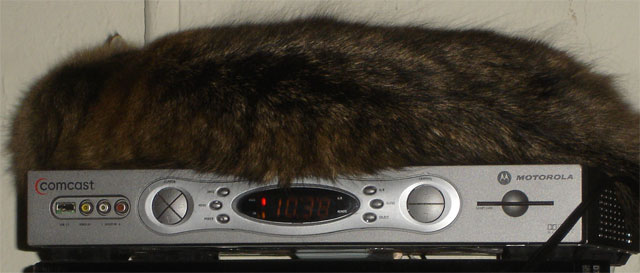 Photo credit zeusandhera
The cable companies are, and have been, lobbying the FCC to remove this encryption ban. The FCC has a proposed plan of rule making for removing this ban on encryption. The big cable providers are lobbying for this ban removal on a couple of major points:
Encrypting all channels will allow them to remain "hot" at the consumer end,
It will reduce service technician calls because of the above,
It will reduce or eliminate cable theft.
What they do not mention is that:
You will need to buy a cable adapter (either box-top or Cablecard) for each TV in your home.
The cable companies are profit driven (this is OK) and, while I admit this may reduce service calls to your home, they also have other methods of being able to deliver this service "hot" including IP-based television distribution. This is simply a cheaper way for them to use their existing technologies to maximize their profits, while maintaining a facade that they are doing this for consumers' benefit.
Based on my own television bill and the number of televisions that an average consumer has in their home (3), I estimate that an existing basic television consumer would receive a 92% increase to their cable bill for the same exact content. (Source)
Fighting The Good Fight
Several "new" television technology companies, such as Boxee and Hauppauge Computer Works (makers of Unencrypted QAM tuner cards) are fighting this rule change, along with the EFF, to allow consumers to continue to receive these basic television channels in the unencrypted format. While Boxee and Hauppage have their own profit motives, they are actively working to promote new technologies to bring a variety of TV content into your home.
Boxee and the National Cable & Telecommunications Association have been going tête à tête over the issue. Boxee is obviously making a play where its Boxee Box uses Unencrypted QAM to receive television stations while the NCTA represents the cable companies who want you to continue to pay your cable providers.
How to Weigh In
I urge all consumers of Cable TV to weigh in on the issue, but especially if you utilize Unencrypted QAM format to watch broadcast TV. The Cable Industry says that the number of consumers who use unencrypted QAM is negligible, so we need to show the FCC that we are in fact, not a negligible party to deal with.
The FCC is accepting comments on this proposed change to the rules.
Here is a listing of all comments on this proposed elimination of the ban on the encryption of the basic tier of service from the FCC.
The best way is to write a short letter to the FCC. Here is the letter that I wrote.
Then proceed to the FCC's page for submitting a filing. For the proceeding number, use 11-169. Type in your information and attach the letter you wrote (I recommend sending as a PDF). After submitting, the FCC reviews the submission and places it on their website.
Together, we can fight the cable companies
The only way they know that we are not happy with this proposed rule change is by commenting on this to the organization who makes the rules, the FCC.
Please send them your thoughts! It should only take about 15 minutes of your time and you will feel great about participating in the rule making process.
---
After I ditched cable TV, I used both Snapstream's BeyondTV and SageTV (now owned by Google) to sate my and my family's television needs. After almost 2 years we ended up turning cable back on. Win one for the cable company!
But that did not end my search for the perfect home television system. Our cable box, well, works; but the hard drive is limited, you have to pay $15.99/mo for it, and the recordings are only on one device.
Luckily I found the DCR-2650 (currently $122 at amazon) which allows you to rent a CableCARD from the cable company (I'm paying $3.99/mo from Verizon) and get all of the premium cable channels on your PC – the drawback is that you must use Windows Media Center due to the DRM (there is a hack for SageTV – more on that later).
We recently got an Xbox 360 for Christmas, and I've been wanting to try the Media Center Extender functionality on it. I'm happy to report it works really well! Here is a video with a quick walkthrough of the Media Center Extender experience on the Xbox 360.
Some notes on the setup:
My Media Center PC & Xbox are both connected via gigabit wired network
Live TV, Guide and DVR functionality work perfectly
Have had issues with Movie playback. This is because the Xbox is limited in what codecs it can decode. Apparently the Windows Media Center Extender app does not use the same codecs as the Xbox media player app.
You could use as many Xboxes as you want, so essentially you have a free number of DVRs in your home
The DCR-2650 uses a single cable card but has 2 tuners. This means you are limited to 2 channels at a time of live TV or recording shows. You could easily continue to add tuners if you would like more.
The Windows Media Center app is available directly on the main Xbox menu that pops up when you hit the Xbox button on your controller/remote
The quality of the video coming from the Media Center Extender is significantly better compared to the "LiveTV" streamed over the internet – also from Verizon.
If Microsoft and Verizon is serious about making their streaming live TV app commonplace in consumer's homes, they will need to both up the quality of the video and also add DVR functionality to the system.
Between how well it works and the fact that you can get a remote for the Xbox, it really makes an ideal replacement for your cable box.
---
First, a bit of history.
Cable TV started in the 1970s when TV consumers just outside the range of commercial Over The Air (OTA) broadcasts banded together to create community "Cable" TV systems. An antenna was posted at a high spot on a mountain and pulled in signals that were out of range for households, then retransmitted those signals to subscribers. At the time, there was a fight by the commercial television stations to protect their content, but eventually the cable systems won out, and eventually evolved to be the mega-cable companies you see today. In fact, today cable companies and content companies are one-in-the-same.
Fast forward to today. Wouldn't it be great if there was an internet television station that would take OTA broadcast signals and retransmit them over the internet to households that couldn't receive that signal? Well, there is and its name is ivi.tv.
The user experience was great. The stations came in at high quality and live, something that today's streaming world is sorely missing. It was only about $10 per month, and you received the major broadcast stations. There was only one problem – the current content owners and cable systems (rightly) see this as a threat to their existing cable based systems, as the same exact TV content can be transmitted through their own internet lines and therefore cannibalism their TV revenue stream. ivi.tv was sued by over 40 major broadcasts and stations, and was forced to take their live streams of CBS, ABC, NBC offline. The very life of ivi.tv and other internet live TV streaming companies is threatened. They want to squash innovation in live streaming TV.
ivi's CEO Todd Weaver has said this:
"Broadcasters fought against cable companies, then joined them. Broadcasters then fought against satellite companies, then joined them. Now it is our turn. History has a habit of repeating itself — and it is unfortunate they cannot learn from that and realize we strongly support broadcasters and their program suppliers helping them monetize, increase their eyeballs, and ultimately get paid." (Source)
He's right. This is the future of live television, and the existing hegemony of cable systems and content creators is fighting it tooth and nail. They have enough money to throw into lawsuits to delay it forever.
So what can you do about this?
The case against ivi.tv is currently working its way through the court system. Whatever is the decision on this court case is going to be used as prior ruling on future cases. I can't even begin to describe how important it is that ivi wins their case. The odds are stacked up against them. With limited funds, there is no way they can fight the courts forever. Donate money to their cause here, and tell your friends about this innovative service that is being crushed by the big cable companies.
Everyone complains about the high price of cable television. You want alternatives? Support, share and talk about this court case and the future of online television.
Additional Reading:
---
Recently picked up a "Phillytablet" from the local newspaper publishing group, Philly Media Network (PMN), publishers of the Philadelphia Inquirer, Daily News, and a few other smaller news publications.
The pricing is structured with two options. The first is to buy the tablet for $99 and pay $9.99 a month for the e-editions of the newspapers for 2-years. The second is to pay $129 for the tablet and agree to a 1-year subscription at $12.99/mo.
If you decided to buy this tablet without the deal, it is currently retailing for about $221, but it is not quite available yet from general retailers. A lot of misinformation has been going around saying that it is available for $170, however this is for an older model and isn't accurate if you are making that comparison.
The newspaper wants you to believe you are receiving a savings over a regular newspaper subscription. If you work it out over the term of the contract and discard the value of the newspaper, it costs $338.76 for the 2 year and $284 for the 1 year deal. Obviously if you aren't going to use the newspaper portion, it isn't worth it to agree to this deal.
I am going to review the PMN portion of the device separately from the hardware, because they are really two separate things. Also of note, this is my first Android device. I've used Windows Mobile in the past and I've been an iOS fan for the past few years but have been wanting to dip my feet into the Android world for a while now and thought this would be a good chance to do so.
Click here to skip to the Philly Media Network apps review.
The Arnova 10 G2 Tablet
The tablet itself has a solid feel to it. It is mainly plastic but is sturdy enough to not seem flimsy. There is a camera on the front and none on the back – and the front-camera is of low enough quality that it isn't going to be good for much more than video-chatting.
It came with Android 2.3 installed on it, as well as a few apps and shortcuts. Specific to the Phillytablet are a few apps I will describe in further detail below.
The 10″ screen itself is bright and of decent quality. It has a more rectangular shape than the iPad, which does lend itself to reading a newspaper or a lot of text.
Battery life, from what I can tell so far, is also good on this tablet.
I did notice that it does not charge via the included USB plug, you need to use the proprietary power adapter to do any charging, so I was a bit put off by that. USB is so prevalent, all devices/gadgets should charge via this method.
The lack of a dual-core processor was definitely visible at times. Angry Birds took a few seconds to get running smoothly, but after that it seemed to run OK. Any website that included Flash was visibly slow and movement was jerky. Reading a book via the Amazon Kindle app was OK, there was a little delay while paging but it was tolerable. If I had to guess I would say that this device suffers a bit both from not enough CPU power and also latency while reading/writing to memory.
All said, it is a decent device for the money. I would not describe this as a "top tier" tablet as some PMN executive will tell you, but it isn't bad for the price.
The App Store
Since I'm new to the Android world, I'm also new to this market fragmentation I've heard so much about. And it is ugly. So for non-Android people, I will give you the short and quick version as I know it, please feel free to correct me if I am wrong. Apparently Google only allows access to Android Market on some devices, and this tablet is not one of them. To try to correct this, Archos (the parent of the Arnova brand) created an App store called AppsLib. They also included the Amazon App Store on the tablet. Each store does have tons of applications, however I found some major gaps. You want Netflix? Nope. Skype? Nope. BeeJive? Just the Facebook version (?) for some reason.
It appears that some application developers choose to only release to certain stores, and access to those stores is restricted. I've heard that you can root your device and add some custom ROMs which then give you access to other stores, but haven't gotten that far yet.
Yet for some reason, AppsLib offered Angry Birds for free (add supported). I can't really figure it out, but I can tell you the separation of apps stores is definitely a cause of confusion for consumers.
Notably missing was Google Apps and other cool toys you often see on other Android phones and tablets. It does include a browser and some apps are available via the Amazon store, including Seesmic, Kik and more.
The Philly Media Network Apps
So now that we've determined that you should only buy this device if you want to receive the subscription to Philly Media Network, what do you get with your subscription?
When you receive your device there are several pre-installed apps from PMN. One is a link to the online tablet version of The Inquirer. The second are two 'e-readers' for the digital versions of the print layout of the Philadelphia Inquirer and the Daily News. The rest just seem to be bloatware to me – advertisements (links to websites, basically) to Main Line Health, PMN, Dealy-o and Philly.com. So the real thing you are paying for are the subscription to the 2 e-reader apps for the Inq and Daily News.
What I like About The Inquirer and Daily News Apps
There are a few things that I do like about the apps. It's nice that it will automatically download the papers while you are at home, and you don't need the network to read them as you travel on your way to work. I take the train and the reception from AT&T is, let's just say, unreliable. Using the paper app you can read through the paper just like the print version.
When I was a print newspaper subscriber, I liked reading the paper, but disliked all of the trash it generated. This is also a great way to reduce paper consumption and reduce distribution costs for the paper.
And Of Course, the Drawbacks
Specific to this device, there is a delay while reading the paper and moving around. With the processing power of a tablet, I assume you are going to see some of this latency. I'm curious how this e-version of the paper would look on something like the EeePad Transformer (@subewl, care to help me out with that?)
Non-specific to the device, the UI of the app seemed to be a bit confusing to me. You supposedly have the ability to click on headlines and be taken to a text-version of the article formatted to read on your screen. It only worked about half the time for me, I think it has to do with where the main text section was located. Hopefully this is just a bug they can iron out.
Why I Like Reading The Whole Paper
Sorry of this gets a bit philosophical for you, but I think there is a place for old-school journalism. It's not about local news, if I want tidbits of local information I'll check Twitter or Facebook. I like old-school journalism because it gets me in-depth coverage of local-ish news items.
Blogs have their place too, but I attribute their success to a different area of the brain. It's the same area that OK or People scratches – breaking news, gossip, and 'eye catching' headlines. Having written for some major blogs – Lifehacker and MakeUseOf, it is amazing to see how much of the success of a blogger is attributed to the eye-catching quality of the title of the post. It takes one read through comments and you can tell that many do not even read the actual content, they read the headlines and form an opinion.
Newspapers are good, on the other hand, at really getting into the issues. They interview local people and analyze the issue much more than any blog that I've known.
The problem with newspapers is that they are trying to emulate the success of blogs. Instead, they need to focus on what they are good at – in depth coverage of local/national news, and bringing that to its audience in as user-friendly of a way as possible.
An e-Newspaper does not do this. I think The Daily is probably the best example I've seen of a newspaper making this transition the right way. Focus on the app. Creating version of the newspaper that is exactly like the paper version is not going to win you any subscribers.
Want to reach us in the digital age? We might have a shorter attention span but we still value good content.
Will the Phillytablet be a success?
This is certainly a tough call to make. I want it to work. Journalism as a whole has been under fire and the whole reason I gave this deal a shot – besides having the tablet itch for a while now – is that I want it to succeed. I'm probably the ideal customer for this tablet – my train commute giving me ample reading time – and I'm a news junkie to boot.
I just don't see this being a long-term viable winning strategy for them. I think they are concerned that not enough people have access to tablets in order to get the e-edition of the paper. As we've seen tablet prices drop, I think if someone wants a tablet, they are going to buy one and this isn't going to be a barrier to adoption of an e-newspaper. The barrier to adoption is that reading a full-version newspaper on a tiny device is never going to be as a fulfilling experience as holding out crisp newsprint.
To illustrate my point, I paged sadly by the crossword and sudoku puzzles. We used to get the physical paper just so that my wife could do those every week. With the e-edition, you can't play them at all.
What can the Philly Media Network do to turn things around?
First of all, I think they need to drop the Phillytablet initiative and focus on content and delivery across all platforms – iOS, Android and Web. If they want to offer a tablet, give it as a gift if someone subscribes to the paper for a year or 2. They should be giving online access to everyone with an interest in the content, not just subscribers to a physical or electronic paper.
Also, they need to get with the times on the ordering process. You had to call a phone number to order the Philly tablet. You couldn't order it online or pick it up in their store. This goes the same with their newspaper subscription, and in this day and age is a major drawback to adoption.
Let me know your thoughts
So, I've certainly been wrong before but I am curious about your thoughts. Do you think the Phillytablet has a shot? What is the future of print newspapers?
---
Fellow tech friends, I have a find for you. If you have a job, or hobby, or whatever where you find yourself meddling with a bunch of .iso files, whether to boot off of them or just to access the data on them, then I have the device for you.
It all started after I backed the Kickstarter project for the isostick. Having never heard of a device before that would accept .iso images on a filesystem and then present them to the computer as a disc drive, I thought this was (and is) a pretty cool idea.
When browsing through the comments, I saw folks mentioning that this is just like the Zalman ZM-VE200 external hard drive enclosure. So of course I decided to do some research on this newly discovered gadget.
Overview
The Zalman ZM-VE200 at its core is an external sata hard drive enclosure. These have been around for a long time, allowing you to put your hard drive in an external enclosure and accessing the file system via a USB port. They are great for when you need to transfer a large amount of data and have an internet connection which isn't up the the task in any reasonable amount of time.
This external enclosure can work just like that, an external USB drive. However, Zalman has added an extra layer of functionality on the enclosure by adding additional components which add features which I frankly haven't seen anywhere else.
Zalman's Additional Hardware Magic
The additional circuitry allows you to select an ISO which is present on the drive, and load it just as if it were a DVD or CDROM on the system. This means that instead of carrying around discs to install operating systems on, you simply put the ISOs on the drive and then select the correct ISO when you boot.
When you boot/plug in the drive you actually have 3 modes available to you. Disc, Hard Drive or Dual. With Disc, files you place in the _ISO folder on the drive will be selectable via the wheel on the side of the device. As it was shipped the drive needs to be formatted as NTFS in order to show the ISO files, however with updated firmware you can actually use with FAT or NTFS.
Operation
First thing you need to do is to install a SATA drive into the enclosure. This is pretty much a no-brainer, it only plugs in one direction. Slide the drive and circuitry back into the case and use the attached screws to secure the case to the drive/circuitboard. The screws are hidden by little rubber seals on the edge of the case.
When plugging it into the system, you interact with the drive in a few ways. The initial scroll wheel position, when powered up, determines the mode:
Hold Up to enter ODD or "Disc" mode
Hold Center to enter Dual mode (both HDD and ODD modes)
Hold Down to enter HDD only mode
An eSATA port and cable are also supplied. I did not use this mode in my testing. It requires that you still plug in the USB cable for power requirements, and I would assume you would see faster transfer rates while in eSATA mode.
Finally there is a small switch that enables write-protect mode. This makes it so that you won't be able to accidentally change the data on the drive.
The only problem I had with the drive was when I first plugged it into my system via a USB extension cable. The drive did not even turn on, it actually just clicked a little bit. I changed USB ports and then it seemed to work fine. Also I've run into a situation where I plugged in the drive to a system that was off and then booted it, and the screen lit up but stayed blank. I believe this is because this drive requires more power than some USB ports can deliver, so if you have problems with it, try another USB port first to see if that fixes your problem.
I also had some problems occasionally mounting the ISO file, usually booting into ODD mode (hold the scroll wheel "up") seemed to fix this problem.
Final Thoughts
When installing operating systems from this drive, the process is notably faster. Meaning, the transfer speed you see off of the "disc" on the drive is much faster than a normal CD or DVD drive. While there were some technical hiccups and gotchas, the drive works very well.
This "gadget" is a must-have tool for system technicians who find themselves constantly burning ISOs to discs. My co-worker who initially made fun of my fondness for new gadgets has since said I'll have to pry this drive from his cold, dead hands. It is so useful that I am now recommending it to all of my sysadmin friends. At $50 it is a steal and you will even make your money back because you won't be burning so many discs.
(Updated Amazon link to SE product on 5/12/2012 – Thanks Skip!)
---
On a website I was working on recently I added the Google Analytics tracking code to the footer of a Smarty template, like this:
footer.tpl:
1
2
3
4
5
6
7
8
9
10
11
12
13
14
15
16
17


<

script

type

=

"text/javascript"

>

var _gaq = _gaq || [];

_gaq.push(['_setAccount', 'UA-XXXXX-XX']);

_gaq.push(['_trackPageview']);

(function() {

var ga = document.createElement('script'); ga.type = 'text/javascript'; ga.async = true;

ga.src = ('https:' == document.location.protocol ? 'https://ssl' : 'http://www') + '.google-analytics.com/ga.js';

var s = document.getElementsByTagName('script')[0]; s.parentNode.insertBefore(ga, s);

})();

<

/

script

> <

/

body

> <

/

html

>
However, since the javascript used by Google Analytics includes { and } tags, also used by the Smarty template engine, it tries to interpret this code and depending on your settings will either fail silently or or with an error such as this:
Smarty error: [in footer.tpl line 148]: syntax error: unrecognized tag 'var'
The fix is simple. Enclose your Google Analytics code, or other javascript code, with {literal} and {/literal}. The literal tag allows you to place code to be displayed, well, literally.
The final code will look something like this:
1
2
3
4
5
6
7
8
9
10
11
12
13
14
15
16
17
18
19
20


{literal}

<

script

type

=

"text/javascript"

>

var _gaq = _gaq || [];

_gaq.push(['_setAccount', 'UA-XXXXX-XX']);

_gaq.push(['_trackPageview']);

(function() {

var ga = document.createElement('script'); ga.type = 'text/javascript'; ga.async = true;

ga.src = ('https:' == document.location.protocol ? 'https://ssl' : 'http://www') + '.google-analytics.com/ga.js';

var s = document.getElementsByTagName('script')[0]; s.parentNode.insertBefore(ga, s);

})();

<

/

script

>

{/literal}

<

/

body

> <

/

html

>
Your website should now run properly with the Google Analytics code in place.